Deutronic Showroom Charger for Lithium & Lead Acid Batteries: SmartCharger SC500-14
USD $773.00
DEUTRONIC ELECTRONIC, INC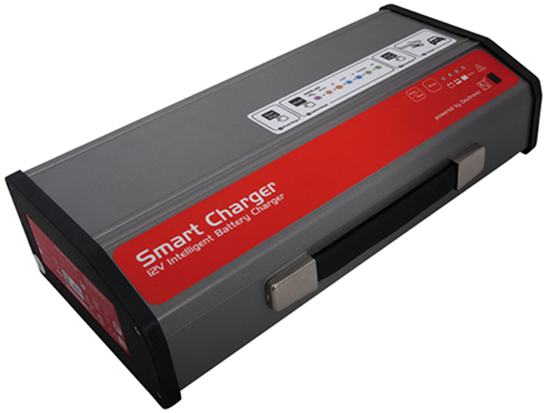 12V battery charging computer for the professional use in showrooms and workshops


Features
Designed for Pb and LiFePO4 Batteries
12V (14,4V nom.) output voltage. Extensive protection and self-protection functions
Adaptive and dynamic Charge Algorithm and monitoring Algorithm
Long-term charging modes are optimised for the requirements in showrooms
Short circuit and reverse polarity protection. Protection of the on-board electronic system / airbag
Protection against defective batteries / spark suppression. For all types of 12V lead-acid-batteries, wet batteries, Ca/Ca, AGM, EFB, GEL. For all types of Lithium (LiFePO4) batteries
High-precision cable compensation. PowerUp Mode: to be able to connect deeply discharged LiFePO4 batteries again (provided that the integrated electronics in the batteries give permission)
Dynamic adjustment according to the battery and load situation
Battery state of charge and process (e.g. supply mode) will be displayed via RGB LEDs.
Technical
| | | |
| --- | --- | --- |
| Weight approx. | 10.6 | lbs |
| Power supply | max 35A | V/Hz/A |
| Dimensions (L x W x H) | 6.5 x 14 x 3.4 | inch |
Other DEUTRONIC ELECTRONIC, INC Products