Aligner with New premium compact cabinet and 27" Wide Screen LCD Display.
Login for special pricing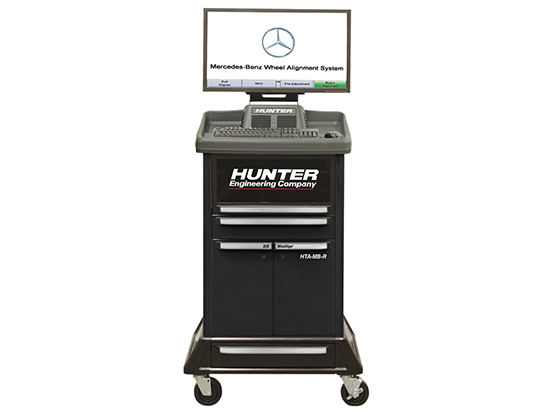 Click to view California Proposition 65 warning
These new consoles feature Hunter�s New HW2 PC running Windows 10 and WinAlign 15.1. The Premium WA600 will contain all the same features as its predecessor, WA400, including but not limited to Plus Key (Hawkeye Elite, Photo, Video, etc.), CodeLink, Ride Height Targets, Premium Cabinets, etc.


Features
TPMSpecs� Pulls together over 100 TPMS procedures into a simple, yet comprehensive, user-friendly format for the technician.
ExpressAlign� Performs every alignment with a streamlined procedure. ExpressAlign� analyzes each job and presents the optimal action sequence with the minimum steps required.
WinToe� Is a timesaver on nearly every alignment. Ensure a straight steering wheel every time without repeated adjustments or using a steering wheel holder. Tools and Kits Database saves trips back and forth to the tool box. Hunter presents all of the t
Virtual View� Displays your alignment job in 3-D using real-time 3-D models. Used by experts and novices alike.
Control Arm Movement Monitor� Cuts adjustment times in half for front-shim, dual-cam or dual-slot vehicles. Step-by-step graphics let you get it right on the first try.
Shim-Select� II Eliminates confusing shim charts and tables. Shim Select II quickly calculates and displays the template you need for proper shim installation. Wheel-Off Adjustment speeds the alignment process by making adjustments with the wheel remove
Automatic Bushing Calculator� Calculates the proper bushing size and position adjustment without wasting time with a zero bushing. Suspension Body Dimension Audit quickly screens vehicles to determine alignability and collision repair needs. Symmetry An
WinAlign� Printouts help sell work. Explain needed parts and repairs and show completed work to customers using detailed, color-coded printouts. The latest specs available online. Download, access and communicate alignment service information through th
HunterNe� Enhances your point-of-sale performance. Provide front-shop personnel with quick, convenient access to vehicle-specific undercar information to explain and sell service. Easy-to-understand videos, animations and images. Make more informed pric
Technical
| | | |
| --- | --- | --- |
| Weight approx. | 455 | lbs |
| Dimensions (L x W x H) | 41 x 34 x 52 | inch |
Accessories
| | | | |
| --- | --- | --- | --- |
| 1-20-3322-1-M | WinAlign® 15 software upgrade. Includes keys, the latest spec database and Installation/Training by Hunter Service Rep. Requires HW1B PC. A standard WinAlign Aligner key must be present for the upgrade. | Login for special pricing | Add to cart |
| 1-20-3394-1-M | 811/WA100/WA200 to WinAlign HW2 MB Upgrade Kit | Login for special pricing | Add to cart |
| 1-20-3395-PSR-M | P211/P411/P611/S411/S611/R611 to WinAlign HW2 MB Upgrade Kit - Upgrades any config to latest WinAlign hardware/software | Login for special pricing | Add to cart |
| 1-20-3724-1 | asTech ADAS Assist kit for customers who already have an asTech device & CM aligner w/24" monitor. Includes dual monitor bracket, 2nd 24" monitor, asTech decals & storage brackets. Requires WinAlign 16.3 or newer and asTech per use charge sold separately. | Login for special pricing | Add to cart |
| 1-20-3725-1 | asTech ADAS Assist for CM aligners with 27" monitor. Includes dual monitor bracket, second 27" monitor, decals and storage brackets. Does NOT contain asTech tool. Requires WinAlign 16.3 or newer and asTech per use charge sold separately. | Login for special pricing | Add to cart |
| 1-20-3726-1 | asTech ADAS Assist for CM aligners with 24" monitor. Includes asTech ADAS tool, dual monitor bracket, second 24" monitor, decals and storage brackets. Requires WinAlign 16.3 or newer and asTech per use charge sold separately. | Login for special pricing | Add to cart |
| 1-20-3727-1 | asTech ADAS Assist for CM aligners with 27" monitor. Includes dual monitor bracket, second 27" monitor, asTech device, decals and storage brackets. Requires WinAlign 16.3 or newer and asTech per use charge sold separately. | Login for special pricing | Add to cart |
| 1-20-3755-1 | Flush Mount Rack Filler extends floor surface into front edge of pit for ADAS Calibration procedures on short front overhang vehicles where target placement requires at bumper placement. | Login for special pricing | Add to cart |
| 1-20-3768-1 | ADASLink Storage Self for Large ~8~ series cabinets ~ Rear Storage shelf for 8 series aligner consoles provides a place to store the ADASLink and dock on the back of the aligner. This can also be wall mounted if desired. | Login for special pricing | Add to cart |
| 1-20-3769-1 | ADASLink Storage Self for Compact ~6~ and ~7~ series cabinets ~ Rear Storage shelf for 6 and 7 series aligner consoles provides a place to store the ADASLink and dock on the back of the aligner. | Login for special pricing | Add to cart |
| 1-20-3858-1-M | KIT-STD WINALIGN 17.X UPGD MB | Login for special pricing | Add to cart |
| 1-20-3859-1MB | MB WinAlign® 17 HD software upgrade. Includes keys, the latest spec database and Installation/Training by Hunter Service Rep. Requires HW2 of HW2B PC. An MB HD WinAlign Aligner key must be present for the upgrade. | Login for special pricing | Add to cart |
| 1-ADASLink | ADASLink Scan Tool ~ Includes Full Diagnostic Scan Tool, Dock, Carrying Case, 1 Year Diagnostic Subscription. | Login for special pricing | Add to cart |
| 1-DAS3000 | ADAS Fixture Kit ~ Includes Fixture, Targets, and 1 year Static ADAS Subscription for ADASLink. Requires ADASLink (sold separately) | Login for special pricing | Add to cart |
Other Hunter Engineering Company Products