WA560-DSP760T-MBHD - HD Wheel Alignment
Login for special pricing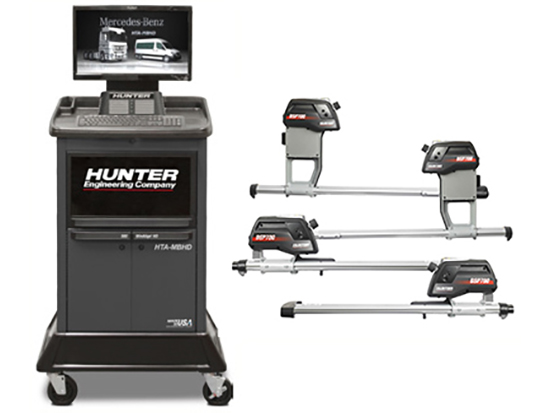 Click to view California Proposition 65 warning
4 Sensor No pusher for Sprinter use 2 axle simultaneous alignment. 3 axle possible with sensor move. Not for use on 4 post racks.  No frame gauges.  "✔✔ Heavy-duty commercial trucks, buses, trailers, and vans (Sprinter, Citan, Vito, and Viano) can be measured. ✔✔ Frame reference mode measures angles relative to chassis/body centerline. ✔✔ Axle reference mode measures angles relative to thrustline of rear reference axle. ✔✔ No need to put spacer plates under rear wheels. ✔✔ Use truck pusher to roll vehicle a short distance (~ 22 inches (~ 559 mm)) to automatically compensate for lateral runout on up to 3 axles simultaneously. ✔✔ No axle jacking required. ✔✔ Quick Check® printouts can be used to sell wheel alignment service. "

Customized for aligning all Mercedes-Benz commercial vehicles.
Features
Self-centering adaptors ✔✔ High versatility fortrucks and buses with low-hanging bumpers or air dams. Supplied adapters fit 15-28 inch or 10-20 inch rim diameters.
Truck pusher - Easily move vehicle for rolling compensation, Rechargeable battery, Also services as a wheel chock.
Mobile Turnplates - 4 Mobile Turnplates, Portable between alignement bays, for single or twin steer axle vehicle alignment
Floor slope mapping & memorizing - Automatically compensates for non-level alignment bays to ensure precise measurements.
The actual floor slope from any number of workshop bays can be mapped and memorized.
Move the aligner from bay-to-bay without hassle.
Technical
| | | |
| --- | --- | --- |
| Weight approx. | 960 | lbs |
| Dimensions (L x W x H) | 101x45x52 | inch |
Options
Accessories
| | | | |
| --- | --- | --- | --- |
| 1-20-2776-1-M | KIT-WINALIGN 14.X MB UPGRADE | Login for special pricing | Add to cart |
| 1-20-2881-1 | Wired Remote Indicator Kit - Includes cabled Remote Indicator and storage bracketry for 6,7, & 8 Series Cabinets | Login for special pricing | Add to cart |
| 1-20-2882-1 | Cordless Remote Indicator Kit - Includes Cordless Remote Indicator and recharging bracketry for 6,7, & 8 Series Cabinets | Login for special pricing | Add to cart |
| 1-20-2927-1 | DSP760T Battery Charger Kit- Includes battery charger for charging up to six DSP700 batteries, 120-240 volt power supply, and six DSP700 sensor batteries. | Login for special pricing | Add to cart |
| 1-20-2974-1 | DSP740T to DSP760T upgrade Kit -– Includes 2 middle sensors, 2 middle adaptors, recharge components and storage supports for middle sensors. | Login for special pricing | Add to cart |
| 1-20-3105-1 | Frame Reference Gauges-For use during frame reference alignment. Contains two frame adaptors and four frame hook assemblies. | Login for special pricing | Add to cart |
| 1-20-3246-1 | Bus body reference stands | Login for special pricing | Add to cart |
| 1-20-3284-1BLK | Gen II HD Truck Pusher-Battery operated truck rolling aid to move large vehicles for rolling compensation. Can be used as a wheel chock, rear axle adjustment aid, or for moving vehicles across shop. Battery charger included. Black. | Login for special pricing | Add to cart |
| 1-20-3620-1-M | WinAlign® 16 software upgrade. Includes keys, the latest spec database and Installation/Training by Hunter Service Rep. Requires HW2 PC. A standard WinAlign Aligner key must be present for the upgrade. | Login for special pricing | Add to cart |
| 1-20-3724-1 | asTech ADAS Assist kit for customers who already have an asTech device & CM aligner w/24" monitor. Includes dual monitor bracket, 2nd 24" monitor, asTech decals & storage brackets. Requires WinAlign 16.3 or newer and asTech per use charge sold separately. | Login for special pricing | Add to cart |
| 1-20-3725-1 | asTech ADAS Assist for CM aligners with 27" monitor. Includes dual monitor bracket, second 27" monitor, decals and storage brackets. Does NOT contain asTech tool. Requires WinAlign 16.3 or newer and asTech per use charge sold separately. | Login for special pricing | Add to cart |
| 1-20-3726-1 | asTech ADAS Assist for CM aligners with 24" monitor. Includes asTech ADAS tool, dual monitor bracket, second 24" monitor, decals and storage brackets. Requires WinAlign 16.3 or newer and asTech per use charge sold separately. | Login for special pricing | Add to cart |
| 1-20-3727-1 | asTech ADAS Assist for CM aligners with 27" monitor. Includes dual monitor bracket, second 27" monitor, asTech device, decals and storage brackets. Requires WinAlign 16.3 or newer and asTech per use charge sold separately. | Login for special pricing | Add to cart |
| 1-20-3755-1 | Flush Mount Rack Filler extends floor surface into front edge of pit for ADAS Calibration procedures on short front overhang vehicles where target placement requires at bumper placement. | Login for special pricing | Add to cart |
| 1-20-3768-1 | ADASLink Storage Self for Large ~8~ series cabinets ~ Rear Storage shelf for 8 series aligner consoles provides a place to store the ADASLink and dock on the back of the aligner. This can also be wall mounted if desired. | Login for special pricing | Add to cart |
| 1-20-3769-1 | ADASLink Storage Self for Compact ~6~ and ~7~ series cabinets ~ Rear Storage shelf for 6 and 7 series aligner consoles provides a place to store the ADASLink and dock on the back of the aligner. | Login for special pricing | Add to cart |
| 1-221-646-1 | HD - Frame Offset Tool - Used to measure axle offset with reference to frame. For use with inspection and frame offset measurements in WinAlign HD. | Login for special pricing | Add to cart |
| 1-ADASLink | ADASLink Scan Tool ~ Includes Full Diagnostic Scan Tool, Dock, Carrying Case, 1 Year Diagnostic Subscription. | Login for special pricing | Add to cart |
| 1-DAS3000 | ADAS Fixture Kit ~ Includes Fixture, Targets, and 1 year Static ADAS Subscription for ADASLink. Requires ADASLink (sold separately) | Login for special pricing | Add to cart |
Other Hunter Engineering Company Products