SmartWeight Elite Balancer-Includes touch screen interface, SmartWeight, eCal auto calibration, TPMS Specs.
Login for special pricing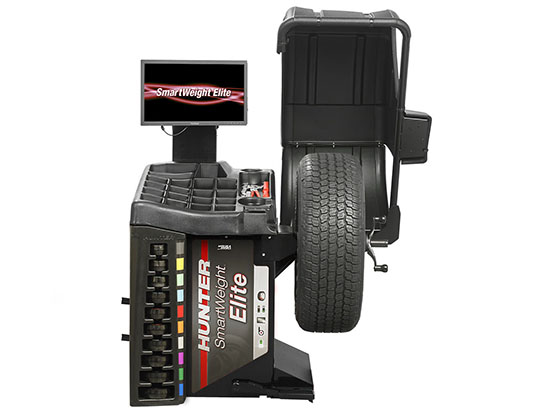 SmartWeight Elite vision technology unlocks more benefits in less time, Automatically determines weight plane locations, Selects clip or tape weight usage, Diagnose bent rims, hides tape weights behind spokes, Allows more single weight solutions and Creates three-dimensional model of the rim. This new balancer provides the ultimate in balancing speed and convenience with automatic dimension entry, Automatic Centering Check and rim runout diagnostics.


Features
Balance wheels faster with automatic dimension entry.
Eliminate error opportunities, Evaluate rim condition, More information in less time.
New HunterNet Exclusive, View balancer usage and Track weight usage.
New Automatic Centering Check, Ensure proper centering and Reduce comebacks.
Enhanced SmartWeight, Even better balance, Maximum efficiency and More single weight solutions.
Touchscreen Interface, Intuitive interface and Reduces training.
eCal Auto-Calibration, True "self-calibration", No operator input required and Ensures accurate balance.
On-Demand Videos to Simplify training and Improve Results.
Technical
| | | |
| --- | --- | --- |
| Tire diameter | 44 | inch |
| Tire width | 20 | inch |
| Wheel weight, max. | 175 | lbs |
| Weight approx. | 371 | lbs |
| Rim diameter | 10 to 30 | inch |
| Rim width | 1.5 to 20.5 | inch |
| Power supply | 196-253V, 10 amp, 50/60 Hz, 1 ph | V/Hz/A |
| Balancing speed | 300 | rpm |
| Dimensions (L x W x H) | 64 x 57 x 71 | inch |
Options
| | | | |
| --- | --- | --- | --- |
| 1-SWE00BLK | SmartWeight Elite Balancer-Includes touch screen interface, SmartWeight, eCal auto calibration, TPMS Specs. Black | Login for special pricing | Add to cart |
| 1-SWE01 | SmartWeight Elite Balancer- Includes touch screen interface, SmartWeight, eCal auto calibration, TPMS Specs, printer. | Login for special pricing | Add to cart |
| 1-SWE02 | SmartWeight Elite Balancer- Includes touch screen interface, SmartWeight, eCal auto calibration, TPMS Specs, TDC laser. | Login for special pricing | Add to cart |
| 1-SWE02BLK | SmartWeight Elite Balancer- Includes touch screen interface, SmartWeight, eCal auto calibration, TPMS Specs, TDC laser. Black | Login for special pricing | Add to cart |
| 1-SWE03 | SmartWeight Elite Balancer- Includes touch screen interface, SmartWeight, eCal auto calibration, TPMS Specs, printer, TDC laser. | Login for special pricing | Add to cart |
| 1-SWE03BLK | SmartWeight Elite Balancer- Includes touch screen interface, SmartWeight, eCal auto calibration, TPMS Specs, printer, TDC laser. | Login for special pricing | Add to cart |
| 1-SWE10 | SmartWeight Elite Balancer- Includes touch screen interface, SmartWeight, eCal auto calibration, TPMS Specs, wheel lift. | Login for special pricing | Add to cart |
| 1-SWE10BLK | SmartWeight Elite Balancer- Includes touch screen interface, SmartWeight, eCal auto calibration, TPMS Specs, wheel lift. Black | Login for special pricing | Add to cart |
| 1-SWE11 | SmartWeight Elite Balancer- Includes touch screen interface, SmartWeight, eCal auto calibration, TPMS Specs, wheel lift, printer | Login for special pricing | Add to cart |
| 1-SWE12 | SmartWeight Elite Balancer- Includes touch screen interface, SmartWeight, eCal auto calibration, TPMS Specs, wheel lift, TDC las | Login for special pricing | Add to cart |
| 1-SWE12BLK | SmartWeight Elite Balancer- Includes touch screen interface, SmartWeight, eCal auto calibration, TPMS Specs, wheel lift, TDC las | Login for special pricing | Add to cart |
| 1-SWE13 | SmartWeight Elite Balancer- Includes touch screen interface, SmartWeight, eCal auto calibration, TPMS Specs, wheel lift, printer | Login for special pricing | Add to cart |
| 1-SWE13BLK | SmartWeight Elite Balancer- Includes touch screen interface, SmartWeight, eCal auto calibration, TPMS Specs, wheel lift, printer | Login for special pricing | Add to cart |
| 1-SWE20 | SmartWeight Elite Balancer- Includes touch screen interface, SmartWeight, eCal auto calibration, TPMS Specs, SpeedClamp. | Login for special pricing | Add to cart |
| 1-SWE21 | SmartWeight Elite Balancer-Includes touch screen interface, SmartWeight, eCal auto calibration, TPMS Specs, SpeedClamp, printer. | Login for special pricing | Add to cart |
| 1-SWE22 | SmartWeight Elite Balancer-Includes touch screen interface, SmartWeight, eCal auto calibration, TPMS Specs, SpeedClamp, TDC lase | Login for special pricing | Add to cart |
| 1-SWE23 | SmartWeight Elite Balancer-Includes touch screen interface, SmartWeight, eCal auto calibration, TPMS Specs, SpeedClamp, printer, | Login for special pricing | Add to cart |
| 1-SWE30 | SmartWeight Elite Balancer-Includes touch screen interface, SmartWeight, eCal auto calibration, TPMS Specs, SpeedClamp, wheel li | Login for special pricing | Add to cart |
| 1-SWE31 | SmartWeight Elite Balancer-Includes touch screen interface, SmartWeight, eCal auto calibration, TPMS Specs, SpeedClamp, wheel li | Login for special pricing | Add to cart |
| 1-SWE32 | SmartWeight Elite Balancer-Includes touch screen interface, SmartWeight, eCal auto calibration, TPMS Specs, SpeedClamp, wheel li | Login for special pricing | Add to cart |
| 1-SWE32BLK | SmartWeight Elite Balancer-Includes touch screen interface, SmartWeight, eCal auto calibration, TPMS Specs, SpeedClamp, wheel li | Login for special pricing | Add to cart |
| 1-SWE33 | SmartWeight Elite Balancer-Includes touch screen interface, SmartWeight, eCal auto calibration, TPMS Specs, SpeedClamp, wheel li | Login for special pricing | Add to cart |
Accessories
| | | | |
| --- | --- | --- | --- |
| 1-135-581-2 | Long pin in Medium Duty Collet Kit.The new medium-duty collet kit provides unmatched centering. Handles vehicles from an F-250 up to a vehicle | Login for special pricing | Add to cart |
| 1-135-582-2 | Pin in Medium Duty Collet Kit, 20-3116-1. Used on certain Isuzu, Mercedes and Freightliner applications. Wide taper centering pin mounts certain Isuzu, Mercedes and Freightliner wheels. | Login for special pricing | Add to cart |
| 1-175-316-1 | Cup (4.5"), Notched Design | Login for special pricing | Add to cart |
| 1-175-328-2 | Flange Plate. This adaptors pins have threads and a cap. Can be used as replacement for 175-265-2. Stud = 175-332-2. | Login for special pricing | Add to cart |
| 1-175-391-2 | STUD-V PLUG IN | Login for special pricing | Add to cart |
| 1-175-396-2 | Adaptor-Star pattern 5-arm clamp adaptor | Login for special pricing | Add to cart |
| 1-175-397-2 | Medium duty 4 arm clamp star adaptor. | Login for special pricing | Add to cart |
| 1-175-426-2 | Pin used on certain Isuzu applications. Used with nut 76-486-2.Specially designed to center certain Isuzu truck wheels on balancer. | Login for special pricing | Add to cart |
| 1-192-211-2 | Cone-Sprinter van cone 6.34". | Login for special pricing | Add to cart |
| 1-192-215-1 | Collet, Dual Taper, 2.74-2.95, 2.89-3.11. Included in 20-2683-1 kit | Login for special pricing | Add to cart |
| 1-192-217-1 | Collet, Dual Taper, 3.37--3.58, 3.53-3.74. Included in 20-2683-1 kit. | Login for special pricing | Add to cart |
| 1-192-219-1 | Collet, Dual Taper, 4.01--4.22, 4.17-4.38. Included in 20-2683-1 kit. | Login for special pricing | Add to cart |
| 1-192-220-1 | Collet, Dual Taper, 4.32--4.54, 4.48-4.70. Included in 20-2683-1 kit. | Login for special pricing | Add to cart |
| 1-192-221-1 | Collet, Dual Taper, 4.64--4.85, 4.80-5.01. Included in 20-2683-1 kit. | Login for special pricing | Add to cart |
| 1-192-244-2 | Medium duty universal collet #15, Hub pilot disc. The new medium-duty collet kit provides unmatched centering. Handles vehicles from an F-250 up to a vehicle | Login for special pricing | Add to cart |
| 1-192-245-2 | Medium duty universal collet #16. he new medium-duty collet kit provides unmatched centering. Handles vehicles from an F-250 up to a vehicle with 19.5 in. wheels. | Login for special pricing | Add to cart |
| 1-192-246-2 | Medium duty universal collet #17, Hub pilot disc. The new medium-duty collet kit provides unmatched centering. Handles vehicles from an F-250 up to a vehicle | Login for special pricing | Add to cart |
| 1-20-2388-1 | Direct-Fit Collet and Flange Plate Mounting Kit | Login for special pricing | Add to cart |
| 1-20-2472-1 | Precision Mounting Kit | Login for pricing | Add to cart |
| 1-20-2568-3 | HunterPro Truck Kit | Login for pricing | Add to cart |
| 1-20-2761-2 | Kit- Adaptor Truck Eco, This kit is a lower cost alternative for those customers only balancing 22.5" and 24.5" tractor trailer | Login for special pricing | Add to cart |
| 1-20-2765-1 | Gen IV BullsEye Collets and Storage | Login for special pricing | Add to cart |
| 1-20-2783-2 | Complete BMW Accessory Flange Kit | Login for special pricing | Add to cart |
| 1-20-2989-1 | KIT - Basic Collet with ACC, Five collet set. Smallest bore sizes up to 3/4 ton trucks. Dual sided design reduces the possibility of damage to challenging assemblies like plastic clad wheels. Includes performance offset spacer for wide wheels and the 6" c | Login for special pricing | Add to cart |
| 1-20-3062-1 | KIT - Basic Collet without ACC, Five collet set. Smallest bore sizes up to 3/4 ton trucks. Dual sided design reduces the possibility of damage to challenging assemblies like plastic clad wheels. | Login for special pricing | Add to cart |
| 1-20-3103-1 | Balancer Mating Kit | Login for special pricing | Add to cart |
| 1-20-3116-1 | KIT-UNIVERSAL MD CENTERING, With unmatched centering performance and only 5 major pieces, this kit can handle vehicles from an F-250 up to a wrecker with 19.5" wheels. | Login for special pricing | Add to cart |
| 1-20-3133-1 | Mouse shelf for RFT/SWT balancers. Kit includes mouse, mouse pad and shelf. | Login for special pricing | Add to cart |
| 1-20-3777-1 | Bullseye, Storage, Flange Kit | Login for special pricing | Add to cart |
| 1-20-3779-1 | SPHERICAL PINS SHORT - For use on Flange Plate | Login for special pricing | Add to cart |
| 1-221-772-2 | Adhesive tape weight pliers - specially angled jaws allow tape weights to be plucked from the rim without scraping. | Login for special pricing | Add to cart |
| 1-46-748-2 | Medium duty collet spacer,The new medium-duty collet kit provides unmatched centering. Handles vehicles from an F-250 up to a vehicle with 19.5 in. wheels. | Login for special pricing | Add to cart |
| 1-51-2912-2 | Medium duty flange plate. The new medium-duty collet kit provides unmatched centering. Handles vehicles from an F-250 up to a vehicle with 19.5 in. wheels. | Login for special pricing | Add to cart |
| 1-76-432-1 | Wing Nut, Forged without Handles | Login for special pricing | Add to cart |
| 1-76-597-3 | Long Arm Steel Wingnut | Login for special pricing | Add to cart |
Other Hunter Engineering Company Products