12/24V Digital Battery, Starter, Charging System Analyzer with Printer and Bar Code Reader
USD $568.00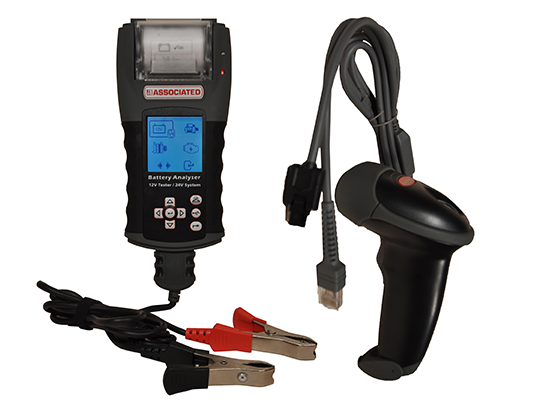 12/24V Digital Hand Held Back Lit Display Battery, Starter, Charging System Analyzer with Internal printer and Bar Code Reader. Safe for Conventional Sealed Lead Acid, AGM Flat Plate and Spiral, Enhance Flooded stop/start, and Gel-Cell Batteries, Resistance Technology test range 100 to 2000 CCA/SAE, all other battery scaling are also available such as CA/MCA, DIN, EN1, EN2, IEC, and JIS#. Customer printer header, test shows actual battery CCA reading after test, Open Circuit Voltage, Internal Resistance, Battery Life, Tester remembers last 70 tests, Performs Starter Draw test, Charging System and Vehicle Ground Test, Includes USB interface cable, Bar code reader to capture battery serial number on printout, Extra printer Paper, and Storage Case. Ideal for writeup lanes or quick Lube lanes.


Features
Back Lit Large Digital Display Symbol Based.
12/24Volt Battery and Electrical System Testing.
Test Conventional Sealed Lead Acid, AGM Flat Plate or Spiral, Enhanced FloodedStop/Start and Gel Cell Batteries.
Built in Printer with customizable header.
Bar Code Scanner.
Field sensible replacement test leads.
USB interface Cable included.
Extra Printer Paper.
Deluxe Storage Box.
Technical
| | | |
| --- | --- | --- |
| Weight approx. | 7 | lbs |
| Dimensions (L x W x H) | 18.25 x 13.25 x 5.5 | inch |
Other Associated Equipment Corp. Products