ACE Basic Lathe - Elite on-car lathe with Automatic Compensation
Login for special pricing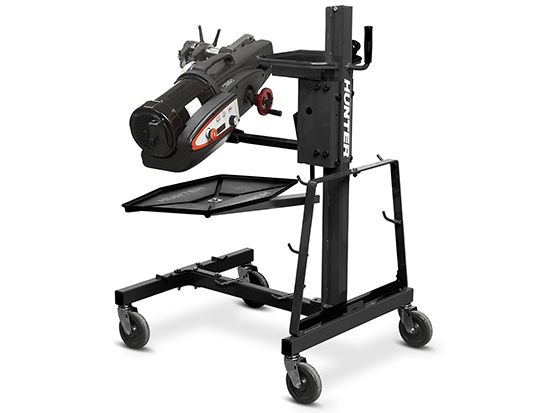 Click to view California Proposition 65 warning
Automatic Compensation maximizes speed and accuracy. Now with Touchscreen Interface! Enhances speed and accuracy by exactly calculating the position of the compensation plates to eliminate guesswork. Included Trolley and Standard Accessories.


Features
Automatic Compensation - Directly determines compensation and eliminates "Wanderin". Consistent compensation times average under 12 seconds.
Touchscreen Interface - Intuitive touchscreen interface simplifies lathe operation, On-board training videos, adaptor and vehicle specification lookup.
Anti-Chatter Technology - Oscillates machining speed to prevent buildup of vibration(chatter). No bands or other devices required.
Varible-Speed Drive System - Avoid differential lock ups by cutting at a lower speed, no need to disassemble drive train.
Convenient Controls - Control lathe operation via the on-board control panel or tablet interface, Controls are always upright and easy to read on both sides.
Bit Minder - Track cutting bit usage to ensure cut quality and minimize expense.
Precise Machining - Unique, stepped cutting pattern prevents radial "push-Out" effect, True one cut pass, No sanding needed.
Reverse Rotation - Service more vehicles with significant driveline drag, turn axles that can only be turned in reverse.
Technical
| | | |
| --- | --- | --- |
| Power Connection | 115/230 | V |
| Weight approx. | 302 | lbs |
| Frequency | 50-60 | Hz |
| Power supply | 115VAC, single phase 60 Hz, 15 amp, NEMA L5-15P (230V, 50-60 Hz optional)" | V/Hz/A |
| Dimensions (L x W x H) | 53 x 32 x 20 | inch |
Options
| | | | |
| --- | --- | --- | --- |
| 1-ACE00BLK | ACE Lathe without Tablet and Adapters- Black | Login for special pricing | Add to cart |
| 1-ACE01 | LATHE-ACE BASIC PASSENGER - Automatic Compensation, Anti-Chatter Technology, PRO Adaptors, adaptor storage, chip tray, 25 ft. po | Login for special pricing | Add to cart |
| 1-ACE01BLK | LATHE-ACE BASIC PASSENGER, BLACK - with Automatic Compensation, Anti-Chatter Technology, PASS Adaptors, Adjustable Adaptors, ada | Login for special pricing | Add to cart |
| 1-ACE02 | LATHE-ACE BASIC PRO - with Automatic Compensation, Anti-Chatter Technology, Tablet Interface, adaptor storage, chip tray, 25 ft. | Login for special pricing | Add to cart |
| 1-ACE02BLK | LATHE-ACE BASIC PRO - BLACK | Login for special pricing | Add to cart |
| 1-ACE03 | LATHE-ACE BASIC PASS ADJ - with Automatic Compensation, Anti-Chatter Technology, Tablet Interface, PRO Adaptors, adaptor storage | Login for special pricing | Add to cart |
| 1-ACE03BLK | LATHE-ACE BASIC PASS ADJUSTABLE - BLACK with Automatic Compensation, Anti-Chatter Technology, Tablet Interface, PASS Adaptors, A | Login for special pricing | Add to cart |
| 1-ACE10 | LATHE-AUTOMATIC COMP ELITE - with Tablet, without Adaptors | Login for special pricing | Add to cart |
| 1-ACE10BLK | LATHE-AUTOMATIC COMP ELITE - BLACK | Login for special pricing | Add to cart |
| 1-ACE11 | ACE Lathe with Tablet and PASS Adaptors | Login for special pricing | Add to cart |
| 1-ACE11BLK | ACE with Tablet and PASS Adaptors - Black | Login for special pricing | Add to cart |
| 1-ACE12 | ACE lathe with Tablet and PRO Adaptors | Login for special pricing | Add to cart |
| 1-ACE12BLK | ACE Lathe with Tablet and PRO Adaptors - Black | Login for special pricing | Add to cart |
| 1-ACE13 | ACE with Tablet and Adjustable plus PASS Adaptors | Login for special pricing | Add to cart |
| 1-ACE13BLK | ACE with Tablet and Adjustable plus PASS Adaptors - Black | Login for special pricing | Add to cart |
| 1-ACE20 | ACE Lathe Digi-Cal without Adaptors | Login for special pricing | Add to cart |
| 1-ACE20BLK | ACE Digi-Cal without Adaptors Black | Login for special pricing | Add to cart |
| 1-ACE21 | ACE Lathe Digi-Cal with PASS Adaptors | Login for special pricing | Add to cart |
| 1-ACE21BLK | LATHE-ACE DIGI-CAL PASSENGER - BLACK | Login for special pricing | Add to cart |
| 1-ACE22 | ACE Digi-Cal with PRO Adaptors | Login for special pricing | Add to cart |
| 1-ACE22BLK | ACE Digi-Cal with PRO Adaptors - Black | Login for special pricing | Add to cart |
| 1-ACE23 | ACE Digi-Cal with Adjustable plus PASS Adaptors | Login for special pricing | Add to cart |
| 1-ACE23BLK | ACE Digi-Cal with Adjustable plus PASS Adaptors Black | Login for special pricing | Add to cart |
Accessories
| | | | |
| --- | --- | --- | --- |
| 1-175-492-1 | Adaptor -4 Slot | Login for special pricing | Add to cart |
| 1-175-493-1 | Adaptor - 5 Slot | Login for special pricing | Add to cart |
| 1-175-498-1 | ADAPTOR-OCL #15 | Login for special pricing | Add to cart |
| 1-175-499-1 | ADAPTOR-OCL #16, 3x4.50", 3x114.3 mm, 3x115 mm, 6x135 mm | Login for special pricing | Add to cart |
| 1-175-500-1 | ADAPTOR-OCL #17 | Login for special pricing | Add to cart |
| 1-175-502-1 | ADAPTOR-OCL #19 | Login for special pricing | Add to cart |
| 1-175-503-1 | ADAPTOR-OCL #20, 5x5.00", 6x5.00" Recommended for late model 4x4 with non-protruding hubs | Login for special pricing | Add to cart |
| 1-175-504-1 | ADAPTOR-OCL #22, 6x130 mm, 6x132 mm | Login for special pricing | Add to cart |
| 1-175-505-1 | ADAPTOR-OCL #23, Bolt Sizes:6 X 222mm,Lug Sizes: 20mm X 1.5 | Login for special pricing | Add to cart |
| 1-175-506-1 | ADAPTOR-OCL #24,5x105 mm, 6x120mm | Login for special pricing | Add to cart |
| 1-175-507-1 | ADAPTOR-OCL #25, "Bolt Sizes: 8 X 210mm 8 X 180mm", Lug Sizes: 14mm X 1.5 | Login for special pricing | Add to cart |
| 1-175-509-1 | ADAPTOR-OCL #27, "Bolt Sizes: 8 X 170mm 8 X 6.5in.", "Lug Sizes: 1/2in. 1/2in. X 20 14mm X 1.5 9/16in." | Login for special pricing | Add to cart |
| 1-175-511-1 | Adaptor - OCL #29, MD truck applications | Login for special pricing | Add to cart |
| 1-20-3301-1 | KIT-OCL ADAPTORS LEVEL 1 | Login for special pricing | Add to cart |
| 1-20-3388-1 | KIT-QUICK COMP PRO ADAPTORS | Login for special pricing | Add to cart |
| 1-20-3461-1 | 3 adaptors cover 90% of 2500/3500 trucks on the road. 20-3092-1 extended twin cutter required for dually and some SRW service | Login for special pricing | Add to cart |
Other Hunter Engineering Company Products