Road Force Elite with Ink Jet Print with Storage (click to see other models available)
Login for special pricing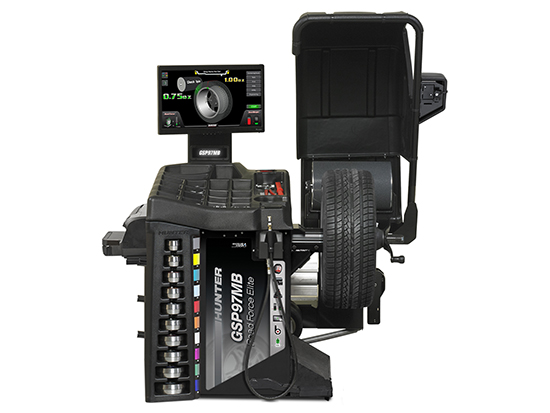 Click to view California Proposition 65 warning
Exclusive Unmatched Speed and Hunter Net. Also Patented Vision System and Enhanced Smart Weight. Black with MB Decals, Light Up Sign and Start Up Screen.


Features
Performs Road Force Test and Balance Faster than any Traditional Balacer
The Vision System eliminates error opportunities , more information in less time.
Enhanced SmartWeight provides a better balance, maximum efficiency, and more single weight solutions.
With HunterNet you can view balancer usage and track weight usage.
Diagnostic Load Roller solves vibration problems, Identifies vehicle pulls, and provides "new car ride".
E-Call Auto Calibration - True "Self Calibration", No operatior input required. 7
On-Demand Videos simplifies training to improve results.
Centering Check ensures proper centering and eliminates set up errors.
Technical
| | | |
| --- | --- | --- |
| Tire diameter | 40 | inch |
| Tire width | 20 | inch |
| Weight approx. | 794 | lbs |
| Rim diameter | 10-30 | inch |
| Rim width | 1.5-20.5 | inch |
| Power supply | 196-253V, 10 amp, 50/60 Hz, 1 ph (Power cable includes: NEMA 20 amp plug, L6-20P) | V/Hz/A |
| Balancing speed | 300 | rpm |
| Dimensions (L x W x H) | L x 65 x 70 | inch |
Options
| | | | |
| --- | --- | --- | --- |
| 1-RFE00MB | Road Force Elite Balancer-Includes Road Force, StraightTrak, touch screen interface, SmartWeight, eCal auto calibration, auto-op | Login for special pricing | Add to cart |
| 1-RFE03MB | Road Force Elite with TDC, and Ink Jet Print with Storage. Black with MB Decals | Login for special pricing | Add to cart |
| 1-RFE11MB | Road Force Elite with Wheel Lift System, and Ink Jet Print with Storage. Black with MB Decals | Login for special pricing | Add to cart |
| 1-RFE13MB | Road Force Elite with Wheel Lift System, TDC Laser System, and Ink Jet Print with Storage. Black with MB Decals | Login for special pricing | Add to cart |
| 1-RFE33MB | Road Force Elite Balancer-Includes Road Force, StraightTrak, touch screen interface, SmartWeight, eCal calibration, auto-open ho | Login for special pricing | Add to cart |
Accessories
| | | | |
| --- | --- | --- | --- |
| 1-175-407-2 | SPRINTER 6 LUG FLANGE | Login for special pricing | Add to cart |
| 1-175-408-2 | SPRINTER FIXED STUDS | Login for special pricing | Add to cart |
| 1-76-574-2 | Progrip Quick Clamp Wing Nut | Login for special pricing | Add to cart |
Other Hunter Engineering Company Products