Air Operated Shop Vac
USD $145.00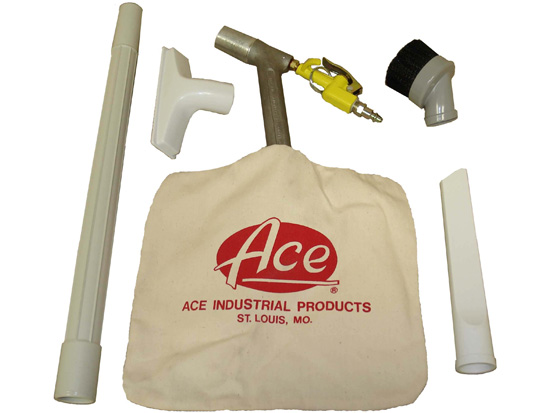 Ace Air compressed air powered vacuum cleaner is a lightweight, easy to use tool that is designed for general shop cleaning of aluminum dust and other materials that should not be captured by conventional dust collectors. It develops its powerful suction power by use of an internal venturi, converting standard compressed air to a highly effective vacuum. Includes: Compressed Shop Air Hand Held Vacuum, Cast Aluminum Body with Cotton Collection Bag, Locking Trigger, 5" Slot Nozzle, Crevice Tool, and 20" Extension Tool.


Features
Air Operated from Standard Shop Air.
Aluminum body makes it suitable to use where non-sparking tools must be utilized.
No electrical connections make it safe to use in wet and hazardous locations.
Safe for Aluminum Sanding and Grinding dust / particle Clean-up.
Compact no large tanks to contend with.
Ideal for all type of body shop clean-up including aluminum sanding particles.
Tool operates on standard air lines with 60 to 150 lbs. psi, using approx. 12 CFM of air at 60 psi.
Nozzle design accommodates pick up of large and odd shape materials such as screws, washers, nuts, metal shavings, and more.
Ergonomic handle with locking trigger for ease of use.
Other Associated Equipment Corp. Products