Wall Mount Pressure Washers
USD $1,911.00
Cam Spray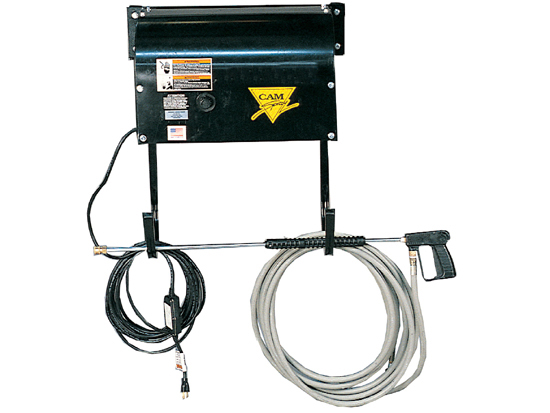 These wall-mount pressure washers keep the machine off the floor, conserve valuable floor space and will handle incoming water temperatures of 180 degrees. Machine includes wall-mounting bracket.


Features
Five-year pump warranty. Two-year engine warranty.
Three-plunger industrial pumps with stainless valves and ceramic plungers.
Pumps will handle 160-degree inlet water unless noted.
Pumps are protected from seal failure with thermal relief valve.
Trigger shut-off guns.
Chemical injection.
All Electric models include a GFCI for operator safety.
All gas-powered models have oil alert protection.
Options
| | | | |
| --- | --- | --- | --- |
| 21-1000SHDE | 1000 psi oil-fired hot-water model; uses kerosene or diesel fuel. | $4,105.00 | Add to cart |
| 21-1000X | 1000 psi Cart Mounted Electric Pressure Washer with 6-gallon chemical tank. | $1,685.00 | Add to cart |
| 21-1500SHDE | 1500 psi oil-fired hot-water model; uses kerosene or diesel fuel. | $4,252.00 | Add to cart |
| 21-1500WM | 230V/20A/1-phase 1500 psi Wall-Mount Pressure Washer. | $2,214.00 | Add to cart |
| 21-2000SHDE | 2000 psi oil-fired hot-water model; uses kerosene or diesel fuel. | $5,073.00 | Add to cart |
| 21-2000XAR | 2000 psi Cart Mounted Electric Pressure Washer with 3-gallon chemical tank. | $2,285.00 | Add to cart |
| 21-25006HT | Heavy-duty trailer has light package, swivel hose reel, 300-gal. water tank, tongue jack, 14" tires, 3,500 lb. axle, gas fueled. | $8,389.00 | Add to cart |
| 21-3000SHDE | 3000 psi oil-fired hot-water model; uses kerosene or diesel fuel. | $6,228.00 | Add to cart |
| 21-3000XAR | 3000 psi Cart Mounted Electric Pressure Washer with 3-gallon chemical tank. | $3,289.00 | Add to cart |
Accessories